School holidays 2021 - 2022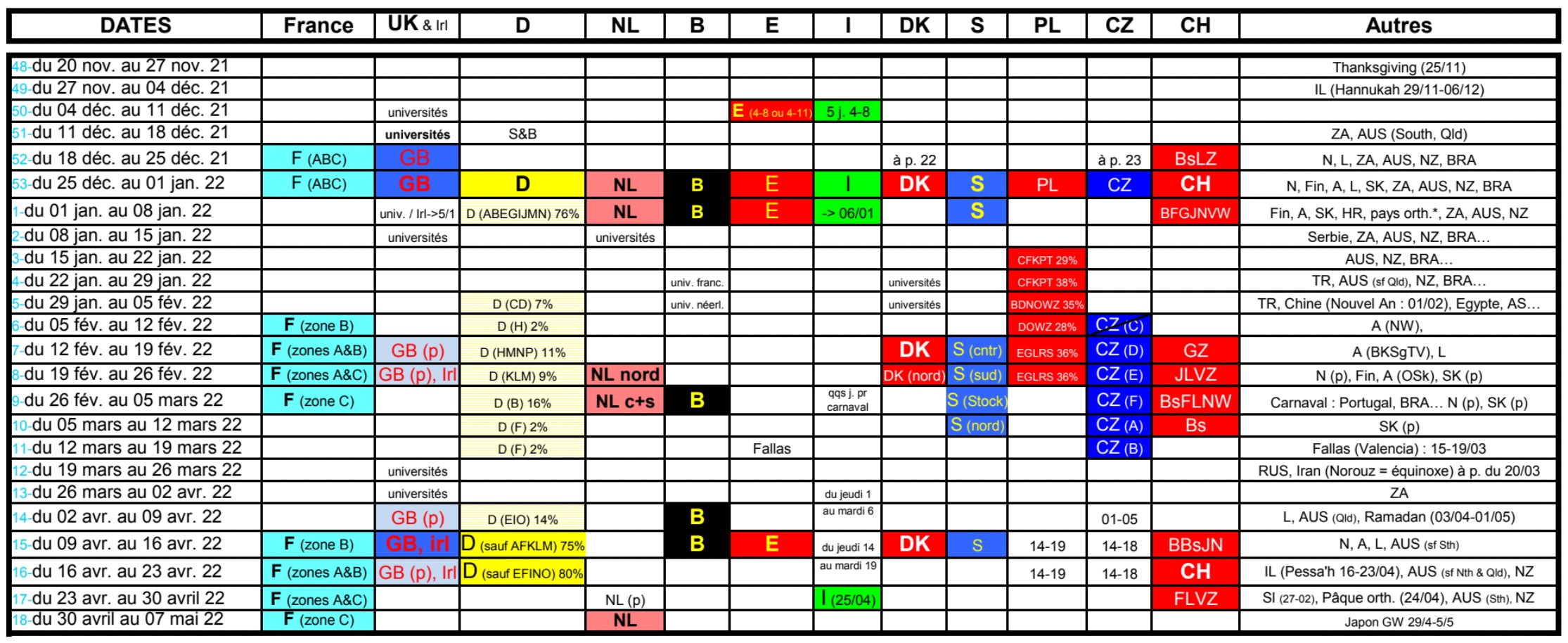 France :
Easter : Sun. the 17th of April 2022
Zone A : Besançon, Bordeaux, Clermont-Ferrand, Dijon, Grenoble, Limoges, Lyon, Poitiers.
Zone B : Aix-Marseille, Amiens, Caen, Lille, Nancy-Metz, Nantes, Nice, Orléans-Tours, Reims, Rennes, Rouen, Strasbourg.
Zone C : Créteil, Montpellier, Paris, Toulouse, Versailles.
United kingdom (UK) : en gras, la semaine où la totalité (ou très grande majorité) des Britanniques sont en congé.
Germany (D) : A Bade-Württemberg ; B Bayern ; C Berlin ; D Brandenburg ; E Bremen ; F Hamburg ; G Hessen ; H Mecklenburg-Vorpommern ; I Niedersachsen ; J Nordrhein-Westfalen ; K Rheinfeld-Pfalz ; L Saarland ; M Sachsen ; N Sachsen-Anhalt ; O Schleswig-Holstein ; P Thüringen. Le % représente la part de la population allemande concernée.
Netherland (NL) : n = nord, c = centre, s = sud. * quelques écoles catholiques du sud du pays : toujours la semaine de Carnaval.
Tcheque Republic (CZ) : les semaines les plus fortes sont les semaines A (Prague 1-5, Brno), B (Prague 6-10), C (Prague banlieue) et F (Ostrava).
Poland (PL) : B Podlaskie C kujawsko-pomorskie D dolnoslaskie (Wroclaw) E lodskie F lubuskie G Pomorskie (Gdansk) K malopolskie (Cracovie) L lubelskie (Lublin) N warminsko-mazurskie O opolskie P wielkopolskie (Poznan) R podkapackie S slaskie (Katowice) T swietokrzyskie W mazowieckie (Varsovie) Z Zachodniopomorskie
Switzerland (CH) : B Berne Bs Bâle-Ville F Fribourg G Genève J Jura L Lucerne N Neuchâtel V Vaud W Valais Z Zurich
Others : ZA = Afrique du Sud. Australie (AUS) : Qld = Queensland, NSW = New South Wales, Vic = Victoria. AS = Arabie Saoudite. RO : Roumanie. SLO : Slovénie. IL : Israël. BRA : Brésil. TR : Turquie.
Created by : Eric Bonnel - Val Thorens Tour